7ème NORTH STUNT DAYS 
2 jours de stunt et drift sur piste fermée de 1200 mètres / 2 Days of stunt and drift on closed track of 1300 yard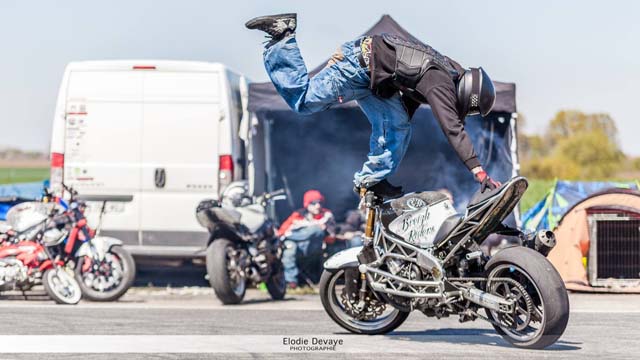 INTERDIT AU PUBLIC
CLOSE TO THE PUBLIC
Pilote / Rider :
20 € 1 jour / day
30 € 2 jours / days
+ l'ASSURANCE « circuit fermé » :
– Pour ceux qui l'ont, il faudra juste amener attestation
– Pour ceux qui ne l'ont pas, vous pouvez la prendre sur http://www.assurancepiste.com/souscription_circuit.php…
c'est une assurance à la journée, la RC, c'est payable directement sur le site.
N'OUBLIEZ PAS D'AMENER L'ATTESTATION sinon vous devrez la reprendre sur ce même site internet le jour-même !
CETTE ANNEE, PAS D'ASSURANCE SUR PLACE !!!!!!!!!!!! / Regarding INSURANCE  » closed circuit  » :
– For those who have it, it will just get certificate
– For those who do not have it , you can take on http://www.assurancepiste.com/souscription_circuit.php…
it is an assurance to the day, la RC, is payable directly on site.
REMEMBER TO BRING THE CERTIFICATE otherwise you will resume on the same website on the same day !
THIS YEAR , NOT INSURANCE PLACE !!!!!!!!!!!!
Pilote uniquement : 5 euros de réduction si vous vous préinscrivez. Pour se faire envoyer la totalité du paiement par paypal à redgrsr@hotmail.com ou envoyer un chèque à l'ordre de « Stunt Drift Events », adresse : Stunt Drift Events 31 Bd Gorbella 06100 Nice. N'oubliez pas de mettre vos noms et prénoms. Le paiement ne sera pas remboursé en cas d'annulation.
Riders only : 5 euro discount if you pre- register. To be send the totality of paiement by paypal to redgrsr@hotmail.com or send a check payable to « Stunt Drift Events », address : Stunt Drift Events 31 Bd Gorbella 06100 Nice. Do not forget to put your names. The payment will not be refunded if cancellation.
Accompagnant / accompanist : (3 personnes max parrainées par pilote / 3 persons max sponsored by rider) Paiement uniquement sur place / Payment only on site.
3 € 1 jour / day
5 € 2 jours / days
Photographes : même conditions / tarifs que les accompagnants.
Si vous vous voulez prendre des photos sur la piste il faudra avoir le gilet jaune.
Photographers : same terms / prices as accompanist.
If you want to take pictures on the track it will have the yellow vest.
Le portail sera ouvert toutes les 30 minutes et fermé la nuit (20h-8h).
The portal will be open every 30 minutes and closed the night (8pm-8am).
Repas :
– vous amenez votre repas
– un barbecue sera à votre disposition
– une friterie sera sur place samedi midi et soir et dimanche midi
Meals :
– you take your meals
– BBQ will be available
– a food truck will be on the spot saturday et sunday
Toilettes et douches à disposition.
Toilets and showers available.
On dort dans nos camions / tentes au bord de la piste.
Sleeping in our truck / tents along the track.
Roulage libre, mini-contest entre pilote et concours de gros stoppies.
Free riding, mini-contest between rider and competitions big stoppies.
8h-12h30 / 13h30-18h
Réglement :
– Port du casque homologué CE, gants, chaussures, pantalon, dorsale
– Pour le drift : combinaison intégrale cuir ou blouson en cuir et pantalon
kevlar/renforcé et dorsale
– Ne pas conduire sous l'effet de l'alcool
– Assurance individuelle obligatoire (présentation lors de l'inscription)
– L'entrée ne sera pas remboursée en cas de désistement (sauf annulation de l'organisation)
– Respect des autres riders
– Rouler dans l'espace et horaires prévus (8h – 13h / 14h – 18h)
Laws :
– Port of CE approved helmet, gloves, shoes, pants, dorsal
– For the drift : full body leather or leather pants and leather jacket
Kevlar / reinforced and dorsal
– Do not drive under the influence of alcohol
– Mandatory Individual Insurance (presentation at registration)
– The entry will not be refunded in case of cancellation (except cancellation of the organization)
– Respect other riders
– Run in the space provided and times (8am – 1pm / 2pm – 6pm)